February 2, 2014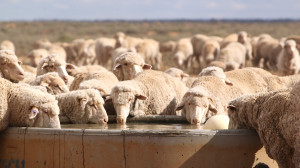 Animal welfare is such an emotive issue in farming, it can tear at the heart strings of large parts of our community, causing anger & division to name a couple of the raw emotions involved.  I certainly don't plan to resolve this in a few words here, as much as I would love to, this is more about giving our perspective so you can understand how we view this important issue.  So to explain our perspective, firstly I'll break it up into three areas; Animal nutrition, health & wellbeing, then livestock handling, finally I'll bring these together to show how we see animal welfare fitting in with the other components of running a farm.
Animal Nutrition:
When we take on the role of animal carers we "sign a contract" to always provide adequate nutrition (including water) to those animals in our care.  With water, stock may not need water constantly, just when they wish to have a drink water must be there, not negotiable.  If this water "contact" is broken it can result in stock losing (or just not gaining) weight for a period of weeks.
Now we view adequate nutrition as not only quantity, quality and diversity as well.  In order to maintain good nutrition and health & wellbeing a diverse range of foods should be available so that animals can "self medicate" for many health issues, such as worms & other internal parasites, for example.  Just allowing stock to have large quantities of good quality feed that may be made up of just a couple of species won't allow for this, supplementing with minerals, vitamins etc. assists, just can't replace the value of whole foods.  If we can enable our livestock to have a range of foods available, they can fulfil their requirements; this in turn makes them very healthy food for us.
Animal nutrition isn't about having stock fat or putting on huge weight gains per day, it is about being healthy so that animals can reproduce & defend themselves from disease and predators.
An important part of livestock nutrition is good livestock handling, this will result in the animals being comfortable in their surroundings and able to make the most of their nutrition.
Health & Wellbeing:
Health & wellbeing shouldn't be about keeping up drenching, vaccinations, dipping etc. like it seems to be in our current culture.  Good health for livestock should be about enabling them to help themselves as stated above.  We also believe that predators have a role to play in the landscape so animals need to be able to protect themselves, part of this is encouraging herding instinct and strengthening family ties in breeding animals.
This is a fairly contentious area as the current thinking with the way we do things in society is that we must have a policy, a plan of how the livestock will be handled.  We almost NEVER EVER PLAN, we only focus on outcomes.  The reasoning behind this is that we never know the state of mind of the livestock we will be working with until we get in the paddock/yards with them, we may have to work them for a while until you "connect" with them so that we can draft, shift or whatever we need to achieve with them.  So we value being able to work our stock in a manner that causes neither us nor the livestock too much discomfort.  This was brought to our attention when we attended a Low Stress Stockhandling school about 10 years, up until then we didn't know how effortless handling stock could be.
Over the years we have developed our own techniques of handling livestock, so they know just by the intent we take when handling them, what they need to do.  They can tell when we are just checking waters, as opposed to being mustered or shifted into a new paddock.  They are comfortable in their surrounds because we respect their space and their needs, while at times taking on the role of "predator" to encourage the herding instinct & keep them connected.
We have bought many stock in over the last ten years, while the flightiest have come from pastoral WA, mainly due to not being handled very much.  They were well prepared for the journey, with lots of electrolytes, so that after the trip from WA they hopped out of the truck, none down and we were able to put them on feed settling them down quickly.  The most out of control livestock came from western Vic, due to being handled a lot, just very poorly!  Another part to their story was our truckie asked for the heifers to be off water for 16 hours prior to travelling, the farmer knew better, he had them still on water!  After 6 hours in the truck the stock couldn't stand up with all the muck in the truck, so the truck had to be washed out before they arrived.  Well they were covered in muck, extremely stressed and 1 was down for 24 hours after unloading, the worst possible start and all because stock were poorly prepared for the journey, by people thinking they were looking after animal welfare.
How does Animal Welfare fit into our Management?
As you can see that we value animal welfare enormously in our management, it is a key component and helps us to manage our landscape better.  We try and request that people that work our stock do so while respecting our stock, sometimes this may mean asking someone to sit out for a bit or getting a stock agent to sit in the car until we finish.
As our focus is on landscape management rather than livestock management, livestock are an important tool for us, they help us manage the landscape and we sell them and/or their fibre to pay our bills.  With this in mind there are times when our stock are on "rations", they might be on low grade food diet just enough to maintain them so that we can invest some of their energy into management of our landscape.  Using the stock in this way enables us to rehabilitate say eroded land and restore ecosystem function, then bring it back into production.
Closing Message:
Livestock are wonderful and can cope with many different circumstances, just so long as they are properly mentally and physically prepared and those caring for them have a "connection" and can understand their needs.  Good livestock handlers are able to think like livestock, as opposed to thinking they know what livestock want.
How good is your connection to animals?
BACK